The Hunter River Company proudly supports the drumMUSTER program which enables the recycling of all eligible containers in the Hunter River range diverting thousands of drums from landfill or burning.
The drumMUSTER program has over 800 collection points across Australia, where triple rinsed empty containers can be dropped off. Collected containers/drums are then processed and ultimately used in the manufacture of wheelie bins, cable covers, public furniture, road markers, construction materials and garden equipment.
Look for the drumMUSTER logo on product labelling: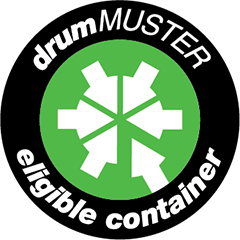 To find out more visit the drumMUSTER website and discover your local collection point.