Moxistar Long Acting Injection for Cattle has been specially formulated to provide a sustained release of moxidectin in cattle.
It contains 5 x the amount of mectin in a standard cattle injection ( eg Doramectin Injection) providing effective control of hard to kill parasites for longer 2.
Providing effective worm control for longer means greater productivity as all energy is focussed on growing 3.
Using Moxistar Long Acting Injection for Cattle means you can replace up to 4 treatments with a single injection protecting your stock for a season 1.
Longer protection, more energy to grow
With 51 days of protection, Moxistar Long Acting Injection for Cattle enables strategic pasture management practices to reduce pasture contamination by cattle ticks.
Grazing a heavily contaminated paddock with a large mob of treated cattle in Autumn, (March/April) followed by a repeat treatment 56 days later provides 121 days of paddock "cleaning" where ticks attaching to cattle are killed before being
able to produce more viable tick eggs – effectively reducing contamination of the pasture to safer levels.
Strategic tick control can follow with shorter acting treatments along with grazing of other more susceptible stock such as cows and calves.
Claims for tick protection and egg production prevention
Dung beetles play an important part in sustainable farming and pasture management. Moxidectin has no known impact on common dung beetle populations in Australia.
When applied as directed, the levels of Moxistar Long acting Injection for cattle in the faeces of treated cattle are not likely to have any significant adverse effect on the following dung beetles: Onthophagus gazella, O. taurus, Euniticellus intermedius and E.fulvus. Effects on other dung beetle species have not been fully evaluated4.
As an injectable behind the ear, using modern cattle handling equipment – administration of Moxistar Long Acting Injection is precise, fast and protects the carcase from damage.

Image (above): Insert at the point indicated by the 'X' in this illustration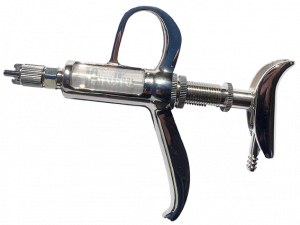 Recommended Applicator:
5ml Metal Injector